---
Welcome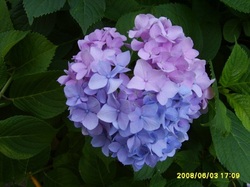 elcome to the Alabama Hydrangea Society. Please browse our site and join us for any of our upcoming events.
Our new schedule includes daytime meetings at Aldridge Gardens and evening meetings at the Birmingham Botanical Gardens. Guests are always welcome.
See
Meetings
page for details.
====================================================================
As a matter of fact:
Did you know that the Oakleaf Hydrangea is the
Official State Wildflower of Alabama?
Hydrangea quercifolia Bartr.
====================================================================
October Meeting
The October 2016 meeting was a fabulous slide picture show of the gardens of the members of the Alabama Hydrangea Society.
If you like hydrangeas, visitors and members alike will enjoy this trip into our yards and gardens. Grab a cup of coffee or your favorite beverage, sit back and see the results of hours of great time spent in our gardens. Click HERE
January 2017 Meeting
Our next meeting is
Wednesday, January 25, at 1:00 at Aldridge Gardens
and our topic is
very well-timed!
James Horton
who supervises the crew that maintains the 67.5 acre
Birmingham Botanical Gardens, will speak to us about the recent extreme drought that
encompassed most of Alabama this summer and fall. James is an excellent and frequent
speaker on gardening topics and is also one of the instructors of the Jefferson County Master
Gardeners' coursework. James will talk about this latest drought and its effect on our gardens
as well as discuss how the nursery industry coped with the drought. James will give us some
useful advice on ways to prepare for and deal with future drought conditions. What a great
opportunity to ask questions and learn from this most knowledgeable gardening expert!
====================================================================
---