---
Welcome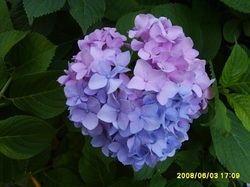 Welcome to the Alabama Hydrangea Society. Please browse our site and join us for any of our upcoming events.
Our new schedule includes daytime meetings at Aldridge Gardens and evening meetings at the Birmingham Botanical Gardens. Guests are always welcome.
See
Meetings
page for details.
====================================================================
As a matter of fact:
Did you know that the Oakleaf Hydrangea is the
Official State Wildflower of Alabama?
Hydrangea quercifolia Bartr.
====================================================================
June Meeting
Our June meeting is going to be a real treat! We will meet on
Wednesday, June 24, at 1:00, at the home of Ron and Meredith Smith (2824 Altadena South Way, Birmingham, 35244).
Jan Thomas, First Vice-President of the Alabama State Garden Club, has agreed to lead us again through a fun and creative installation service for our 2015-2017 officers. Following this casual meeting, Ron will lead us on a tour of his beautiful (and that's an understatement!) gardens. You will leave inspired and motivated to go home and incorporate some of Ron's ideas into your own garden. There is also another special treat for this meeting, but, for now, it's a surprise! However, I will give you a hint: it's something very sweet!! If you missed the tour of Ron's gardens two years ago, or if you want to find out the surprise, then you must clear your calendar for the 24th and be sure to be there!
==============================================================
Invitation from Dr. Michael Dirr
Dear Fellow Gardener and Hydrangea Enthusiast:
The snow on Cape Cod has blanketed the hydrangeas and provided protection against the arctic chill, guaranteeing prolific flowers for this year's hydrangea conference, July 14 to 16, at Heritage Museums & Gardens.
Heritage is the repository of the richest hydrangea collection in The Northeast, which will be in full glory during the conference. The hydrangeas are artistically integrated into the fabric of the 100- acre garden. Additionally, a world-class collection of trees and shrubs graces the entire site. The garden is a joy to behold. My wife, Bonnie, and I consider Heritage one of the most beautiful gardens in the United States.
Spring and summer warmth ushers/fosters the progression of hydrangea flower development to a crescendo. The tours of private gardens provide windows to hydrangea use and culture that are typically closed to visitors. Mal Condon, conference co-chair, through his many Cape Cod contacts, was instrumental in organizing these special hydrangea tours.
The educational component, undergirded by a cadre of outstanding speakers and nursery sponsors, will never be duplicated in my lifetime. Academics/researchers, nursery owners, marketing specialists, and practitioners of the art and science of hydrangeas will discuss the species, cultivars, culture, propagation and use. The opportunities for interaction, questions, observations and information sharing are unparalleled.
I invite you to join me and other hydrangea lovers for a never-to-be-forgotten learning experience where "you're sure to fall in love with old Cape Cod."
Full details of the Hydrangeas 2015 Conference, including the speaker lineup and conference fees and hotel rates, can be found here:
http://heritagemuseumsandgardens.org/hydrangeas2015
.
I look forward to meeting you in July.
Sincerely,
Michael A. Dirr, Ph.D.
Emeritus Professor of Horticulture
The University Of Georgia
P.S. If you book today, you can get the early bird conference rate.
=================================================================
Other Upcoming Events
"Easy-Prop Hydrangea Propagation" - Tuesday, June 16, 6 p.m., Birmingham Botanical Gardens, 2612 Lane Park Rd, Birmingham 35223. We will look at methods you can use at home to propagate a few or a lot of French hydrangeas. Sponsored by the Jefferson County Master Gardener Association. Presented by David Doggett
Birmingham Botanical Gardens Spring Plant Sale is April 9-12, This year's location: Brookwood Village upper parking lot beside Hwy 280. This is the largest plant sale around and, in fact, is the third largest botanical gardens-sponsored plant sale in the country! An absolute must for gardeners. Mark your calendar.
Aldridge Gardens Spring Plant Sale is May 7-9 (Thursday evening preview sale, Friday from 9 a.m. to 5 p.m., and Saturday from 9 a.m. to noon) at Aldridge Gardens, 3530 Lorna Road, Hoover. They will be selling a wide array of hydrangea types (oakleaf, French, climbing, panicle, and smooth) as well as native plants and companion plants. Members of the Alabama Hydrangea Society will be present to help you make selections.
---