Our regular day meeting is Wednesday, January 28, at 1:00. PLEASE NOTE THE CHANGE IN VENUE FOR THIS MEETING ONLY. We will meet at the North Shelby Library (5521 Cahaba Valley Road, Birmingham, 35242; 439-5500). This is a meeting you won't want to miss! June Mays will present "Designing with Hydrangeas" and offer us some useful and exciting tips about companion plants for hydrangeas and designing our gardens to make our neighbors jealous!! Many of you are familiar with June and know to take advantage of any opportunity to hear her speak and share in her vast knowledge of garden and landscape design.


We are launching our night group on Wednesday, January 28, at 6:00 at the Birmingham Botanical Gardens (Hodges Room).* Karen Mitchell will present "Hydrangeas 101", which is a perfect introduction to the novice hydrangea gardener and the perfect "refresher" course for us old-timers.





---
Welcome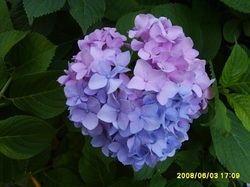 Welcome to the Alabama Hydrangea Society. Please browse our site and join us for any of our upcoming events. All events are held at Aldridge Gardens unless noted. Guests are always welcome.


====================================================================

Did you know that the Oakleaf Hydrangea is the Official State Wildflower of Alabama?

Hydrangea quercifolia Bartr.

Now there are new cultivars of the Oakleaf Hydrangea. Join us at the next meeting

to learn about these new additions to our gardens.





Our March meeting, March 25th, 1:00pm at Aldridge Gardens, will feature the "Hydrangea Care Calendar" Presented by: David Doggett.















---