---
Welcome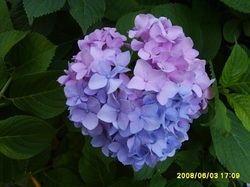 Welcome to the Alabama Hydrangea Society. Please browse our site and join us for any of our upcoming events.

Our new schedule includes daytime meetings at Aldridge Gardens and evening meetings at the Birmingham Botanical Gardens. Guests are always welcome.
See Meetings page for details.

====================================================================


As a matter of fact:

Did you know that the Oakleaf Hydrangea is the Official State Wildflower of Alabama?
Hydrangea quercifolia Bartr.

====================================================================

October Meeting
Our next meeting is Wednesday, October 28.
We are excited to have our own Pete Smith present "Hydrangeas in the Cloud". Pete designed and maintains our own Alabama Hydrangea Society website and he will take us on a tour of our website as well as share with us other fabulous and helpful websites.
Please note: the day group will meet at 1:00 at the Hoover Library in Meeting Room A. This is a change from our normal meeting venue at Aldridge Gardens.
The address of the Hoover Library is 200 Municipal Lane, Hoover, AL 35216 (444-7800). Meeting Room A is on the lower level across from the theater. If you are unfamiliar with the Hoover library, simply enter the front of the building and then take the steps just to the right of the entrance; the meeting rooms are to the left at the bottom of the steps and are clearly labeled.
The night group will meet at 6:00 P.M. in the Hodges Room at the Birmingham Botanical Gardens.
---