---
Welcome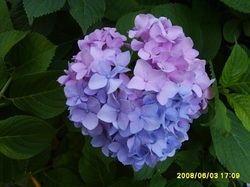 Welcome to the Alabama Hydrangea Society. Please browse our site and join us for any of our upcoming events.
Our new schedule includes daytime meetings at Aldridge Gardens and evening meetings at the Birmingham Botanical Gardens. Guests are always welcome.
See
Meetings
page for details.
====================================================================
As a matter of fact:
Did you know that the Oakleaf Hydrangea is the
Official State Wildflower of Alabama?
Hydrangea quercifolia Bartr.
====================================================================
November Meeting
Our next meeting is Wednesday, January 27
.
We will meet at Dorothy McDaniel's Flower Market to learn about flower arrangements with hydrangeas! In case you don't know, Dorothy has moved her shop from the Homewood location to 3300 3rd Avenue South (downtown). We will meet at Dorothy's shop at 1:00 on Wednesday, January 27. Please be aware that there will be NO night meeting for January. Both the day and night groups will meet jointly for the January meeting, but will return to separate meetings in March. We hope you will make every effort to attend this special meeting—just imagine the sight and smell of a shop-full of beautiful, fragrant, and fresh flowers on a mid-winter's afternoon. What a treat for the senses! A quick note about this meeting: If you plan to bring a friend, please let me know as soon as possible (
wtmmmb@yahoo.com
; 542-3672) so that we can plan for extra seating if needed. Finally, Dorothy told us that there is space for overflow parking in the Mayer Lighting Showroom, next door to her shop.
---